Who is the developer/client of the project?
TOWN
Describe the context of this project and its contribution to the urban life and user experience of the place in 250 words max. and please upload an image of the project in its wider context or a drawing that best situates the project in its location.
The Love Wolverton scheme will regenerate an important town-centre site in Wolverton, a Victorian railway town now forming a diverse neighbourhood within the new town of Milton Keynes. Wolverton is a compact, walkable, tight-knit place formed mainly of red-brick terraces laid out on a grid of streets, with a traditional, highly independent mixed-use high street and market square.

The scheme will replace the Agora Centre, a failed shopping and leisure building built by the New Town Development Corporation in the late 1970s, which obliterated an important street, Radcliffe Street, severed the town centre's two main areas of commercial activity and frontage, and in the eyes of many residents has blighted the town.

The project affords the opportunity to reinstate a second side to the high street, Church Street, address and enclose the Market Square, and open and frame views of important higher-order local buildings, including the Grade II* listed St George the Martyr church. The layout, density and typology of the proposed development captures the essence of the Victorian townscape, with 2-4 storey red-brick-faced buildings with extensive ground-floor active uses interspersed with many residential front doors.

Promixity to Wolverton train station, eight minutes' walk away, turn-up-and-go frequency buses adjacent to the site and the MK redway cycle network means car use can be limited, use for land for parking reduced (to approx. 0.8 per dwelling) and extensive landscaping provided, including car-free streets and shared courtyard gardens modelling on learning from TOWN's earlier Marmalade Lane scheme in Cambridge.
Please describe your approach to this future place and its mix of uses. How will it function as a vibrant place? How does it knit into, and serve the needs of, the wider area? 250 words max. Please attach a detailed masterplan that shows the mix of uses and public spaces.
The scheme will reinstate Radcliffe Street, restoring the historic connection between Church Street and the Square. A wider grid of streets, including two car-free 'little streets', connects with existing paths and knits the site back into the urban fabric of the town.

This grid defines six small blocks, labelled A to F, which between them comprise 115 homes, eight new shop units and a community space. Each block fronts and overlooks the streets around it. Ground floor retail uses occupy the most important corners, activating the streets and reinforcing the town's existing retail loop; several have spillout space planned-in for outdoor dining and displays.

The residential mix ranges from one-bed flats to four-bed houses, with a mix of types and sizes in each block, making for many front doors to the street and a wide mix of households within each block. A central block, Block C, is a courtyard block of 29 one, two and three-bed apartments in a development for Still Green, an over-50s cohousing community based in Milton Keynes. The other blocks will be of rental tenure, including market rent and a local policy-compliant 31% affordable housing.

Every dwelling has a private balcony, terrace or patio and four blocks have shared semi-private courtyard gardens which will feature space for food-growing, nature-play and socialising – meaning residents effectively 'pool' their garden space for a larger and more convivial shared amenity.

The architecture celebrates Victorian Wolverton, combining contemporary forms with locally-resonant brick tones, proportions and porch and window details.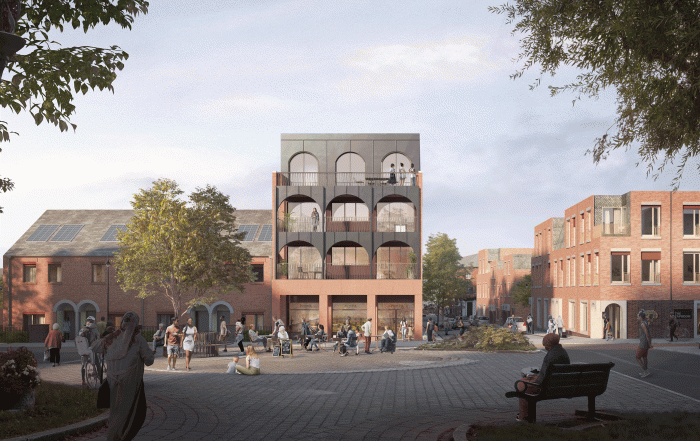 How will the carbon use/material impact of the development of this new place be mitigated? What is the sustainability strategy? 250 words max. Please attach an image or drawing of the project that supports your statement.
The operational target is to reduce CO2 emissions to 80% below current Building Regulations Part L. This will be achieved by:

• high fabric energy efficiency standards – targeting a heat demand no greater than 30kWh/m2/yr;
• the use of MVHR and air source heat pumps to generate and conserve energy within dwellings; and
• an on-site electric microgrid comprising a 300kWP roof-mounted solar photovoltaic array and 230kW central battery storage, which will generate approximately 66% of the scheme's energy needs across the year.

The on-site microgrid will be owned and run by a community energy services company (CESCo), Wolverton Community Energy, which will reinvest operating profits into local renewable energy projects, including retrofitting energy-inefficient heritage buildings nearby and developing new PV arrays on local public buildings – holding out the prospect of a genuinely net-zero development over the medium term.

Embodied carbon will be reduced by the proposed use of timber-frame structures, including CLT frame for the apartment buildings. The use of brick for street-facing elevations is non-negotiable under local conservation area policies, but the extent of this carbon-intensive material will be reduced by the use of other facing materials including timber and render to the courtyard sides of the blocks. Spoil from demolition of the Agora Centre will be used to meet the cut-and-fill balance on site.

Other contributions to sustainability include SUDs, a net increase in tree planting and new habitat features including numerous swift boxes and bee bricks, new bike-hire schemes and an electric car club.
What do you see as the greatest contribution of this project to the citizens of this future place and its surrounding areas? You may also attach an additional image or document to support your entry.
Wolverton is an example of how towns were built before the age of the car, sited within a place, MK, that epitomes car-centric planning but wants to pioneer sustainable transport.

As a place, Wolverton has often felt neglected, caught between the gentility of richer old settlements of MK such as Stony Stratford and Newport Pagnell and the breakneck suburban spread of the new town. This sense of somehow being left behind, despite the vast economic benefits of being part of MK and despite a fantastic community identity and spirit, was ever-present through the extensive engagement undertaken with local people during the planning process; the empty Agora Centre looming over the town centre as a metaphor.

This project is an opportunity for Wolverton to be a pioneer; to point the way towards a sustainable future for MK not through faddish design or novel technology but by becoming more like itself – undoing the mistakes of the past and showing what can be achieved when contemporary sustainable design and creative place-making meet the old-fashioned virtues of streets, blocks, front doors and corner stores.

The most resonant impact for many Wolvertonians will be a newly-thriving high street where new amenities lift existing ones, and the restoration of the Market Square to the focal place for civic life. As with much good urbanism, the new development will be in the background, its role not to become a 'destination' itself but to create connections between new streets and old, new residents and existing.
Winner of Future Place - The Pineapples Awards 2021