Where is the project located - please enter full address and postcode?
Levels 7 & 8 Stratford Multi Storey Car Park, Great Eastern Rd, London E15 1BB
Who is the developer/client of the project?
Urban Space Management (developer manager) for LB Newham (client/landlord)
Describe the context of this project and its contribution to the urban life and user experience of the place.
LB Newham own this multistorey car park which sits in the middle of the Stratford Centre - the town's original shopping centre. Westfield Stratford City had a huge impact on the town centre and the car park was largely unused. In 2010 USM suggested interim use of the roof and in 2013 the LB Newham agreed to lease the top two levels to us to transform it into an urban park and events space. A £25,000 GLA Pocket Parks grant was secured alongside USM's own investment.
Over the spring of 2014 USM worked with LBN, Groundwork London, The Rooftop Film club and others to transform the rooftop. In July 2014 the roof opened with an Urban Park, Bar, Aquaponics demonstrator unit, Street food and open-air Cinema.

In 2014 there was a very limited night-time offer in Stratford and Roof East was a completely new and unknown offer for the Town Centre. USM worked hard to integrate with the local community – ensuring that we worked with local groups to provide an offer for residents and working with Newham Workplace to fill rooftop jobs with local people.
We have created a new place in Stratford, providing a totally different kind of experience to others you can get in the area. It is used by locals but has become more of a London wide attraction.
How has this project, event or installation enlivened the place in a creative way?
Roof East overlooks the Queen Elizabeth Olympic Park. The neighbouring area has seen significant development of mainly residential towers and we have to be sensitive to those new residents. There are limits on noise generation and hours of activity. Within those constraints we have created one of the most vibrant roof areas in London. This redundant space has been transformed. We have:
• A bar
• Street food operators
• A park – including planted cars
• Games – including, crazy golf, batting cages, lawn bowls, curling
• Open air cinema
• Private Hire areas with spaces for birthdays etc.
• We have a range of murals painted by street artists. They have been created by Louis Masai and London Mural Company
• We host a wide variety of cultural events each year, from film premières to dance performances
Urban Space Management collaborates with LB Newham, local organisations and community groups to provide residents with free events and activities, including family activities during the school holidays and community engagement programmes. These have included:
• Free monthly cinema screenings
• Free summer holiday sports activities for kids and families
• Free daytime family events on weekends: painting, crafts, jenga championships
• Low cost weekly yoga classes
• Royal Derby Championship
• Boxing classes
• HIT workout events
• Hula Hoop classes
• Dance lessons
• Skating classes
We also are linked to employment opportunities through Newham Workplace
We are open to the public:
Tuesdays- Fridays: 4pm- 11pm
Weekends: 12pm- 11pm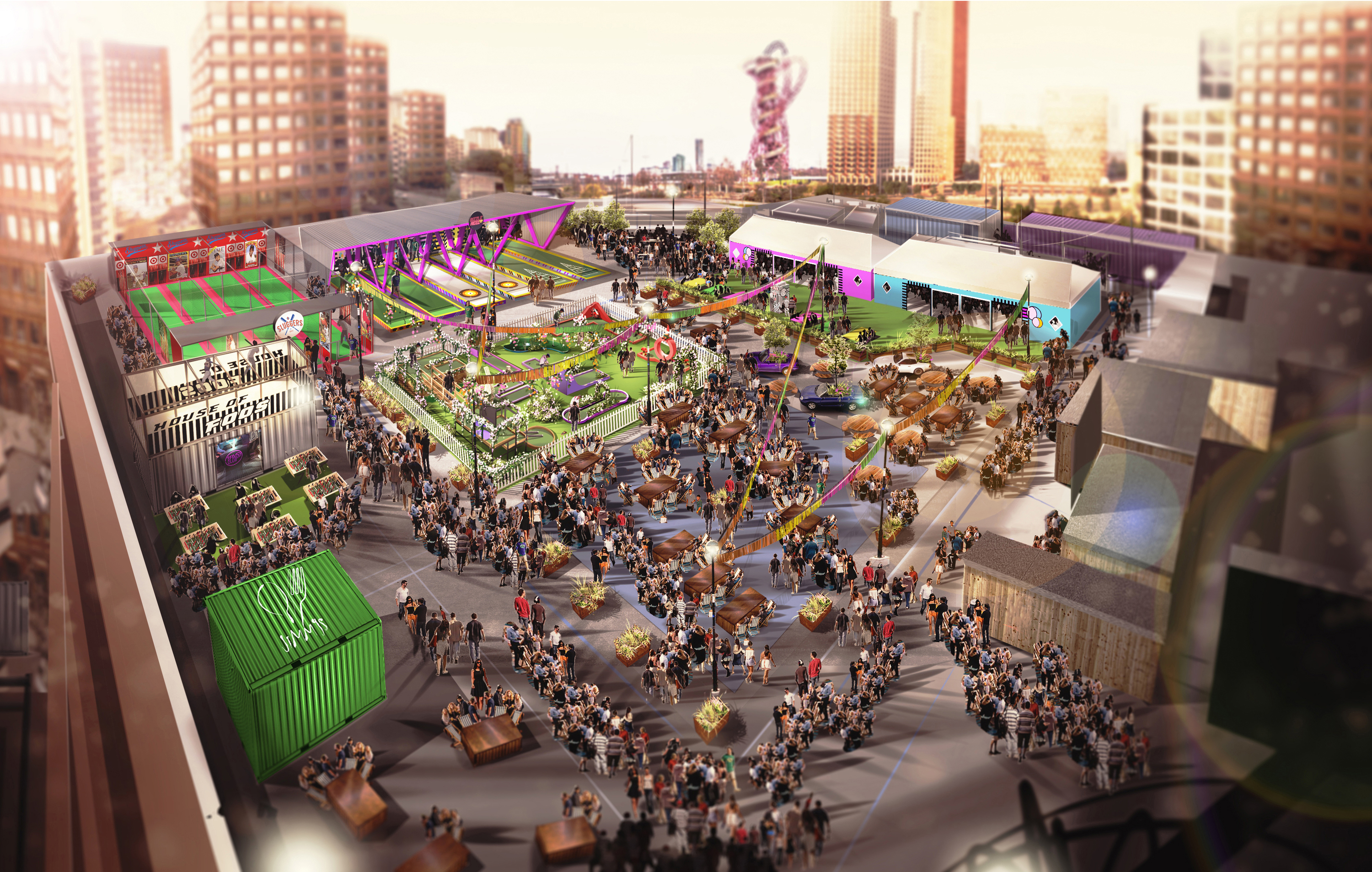 What do you see as the greatest success of this project?
We have created a new experience in the rapidly changing Stratford – and are sensitive to those changes. We are helping change the image of Stratford in a more organic and less investment-oriented way than the other changes taking place, which are capital intensive and very often soul-less.
We have worked very positively in partnership with Newham
across several departments (Parking, Regeneration,
Property and Licencing).
A common flaw of meanwhile projects is that they can be
loaded up with too many unrealisable outputs. While this is an interim project, we agreed having
grounded and sensible outputs with the council, which makes
the running much simpler.
We have shown what is possible in the area with a re-use
scheme, limited resources and creative thinking – with both
the public and private sectors working together.
Critical to our approach is for us to act as the overall coordinator,
taking on the responsibilities for setting the project
up, holding the lease and taking on tenants who provide the
activities. This means the project is answerable to the Council
in a co-ordinated way.
Given the age of the carpark structure and its open-air nature
the works have had to be lightweight and activity seasonal.
Initially LBN was unsure about the length that the project could
run for because of potential development in the area, however
the project has proved such an asset that it now continues to
operate into its 7th year and continues to go from strength to
strength.
Please share any data or figures that support your entry, for example increased footfall, happiness surveys, event attendance and/or observed changes in behaviour. Did it make a positive economic, social and environmental contribution? You may also attach any news clippings, testimonials, or additional images or documents to support your entry.
We have around 200,000 visitors per year and a social media following of 33,000.
Google reviews: 4.3 stars (923 reviews)
Trip Advisor: 4 stars (119 reviews)
Website page views per year: 644,000 per year on average
We have created around 53 full time equivalent jobs.
We have supported 17 SME's throughout the period.
We have not undertaken surveys or formal assessments of the project. Its success is evidenced by the growth of the SME's participating in it, the jobs created and the continued success of the project. This is evidenced by the comments and reviews from local and other people attending Roof East activity. Those comments have in general all been positive, saying that this is a great addition to Stratford Town Centre. The online and published press have followed that line too.
AWARDS
Highly Commended : Landscape Insitute Design for a Temporary Landscape 2015
Winner: Time Out Love London Awards 2018
Shortlisted for Creative Reuse - The Pineapples Awards 2021