Please enter the project name:
New Islington, Manchester
Who is the developer/client of the project?
House by Urban Splash
Describe the context of this project and the point it has reached in its development in 250 words max. When is the project expected to complete? Please upload a masterplan drawing that best describes the project in its location
Through considered and strategic placemaking, House by Urban Splash has transformed New Islington from a once deprived and anti-social area – into what is now one of the UK's most desirable and accessible mixed-use, mixed-tenure communities. It is somewhere with brilliantly designed homes, amenities and infrastructure to ensure long term economic sustainability.
Although just a stone's throw from Manchester city centre, it has already earned its special reputation as a buzzy independent commercial area, offering an eclectic range of food, entertainment and workspaces.
The masterplan has exceeded the initial vision, with a community now filled with family homes, apartments and affordable and social housing aligned with independent businesses, places to exercise and its own marina; there is also the New Islington metrolink stop, an OFSTED outstanding free school and health centre.
New Islington is now in the final phase. Over the last year House by Urban Splash has had to adapt to the unprecedented challenges the pandemic has brought, whilst safely working on the final elements of New Islington including new apartments, created using panelised technology, and new ground floor commercial spaces which will provide more spaces for independent businesses to thrive in from this summer.
This impressive transformation is set to complete in 2023.
What do you see as the greatest success of this project to date? How has it made a promising start on the journey to its completion? 250 words max. Please upload an image of the project to support your statement
This past year, against the backdrop of the pandemic, House by Urban Splash has continued to attract customers to New Islington.
In early 2020, when the Covid-19 pandemic hit, the team applied innovation and quick thinking to help adapt the sales process, ensuring customers could continue to view properties at New Islington during lockdown, and by spring 2020 the team had swiftly explored and launched a new way for customers to view homes. A series of virtual desktop videos and a 360-degree CGI experience of new homes were launched – allowing customers to view properties from their tablet or mobile phone.
In summer 2020, more, industry-first technology followed in the form of a new configurator. Designed in conjunction with architectural visualisation studio, Uniform, and Tokyo Digital – the configurator innovative pixel streaming technology that until now, has been employed by car manufacturers for its customers to virtually build their own cars, has never been used in the homes market. To date, the configurator has been used over 8,000 times by customers hoping to visualise and determine the layout of their dream home at New Islington – something which has become imperative this past year - a time in which homes have evolved into multi-functional spaces in which people not only live, but work and play.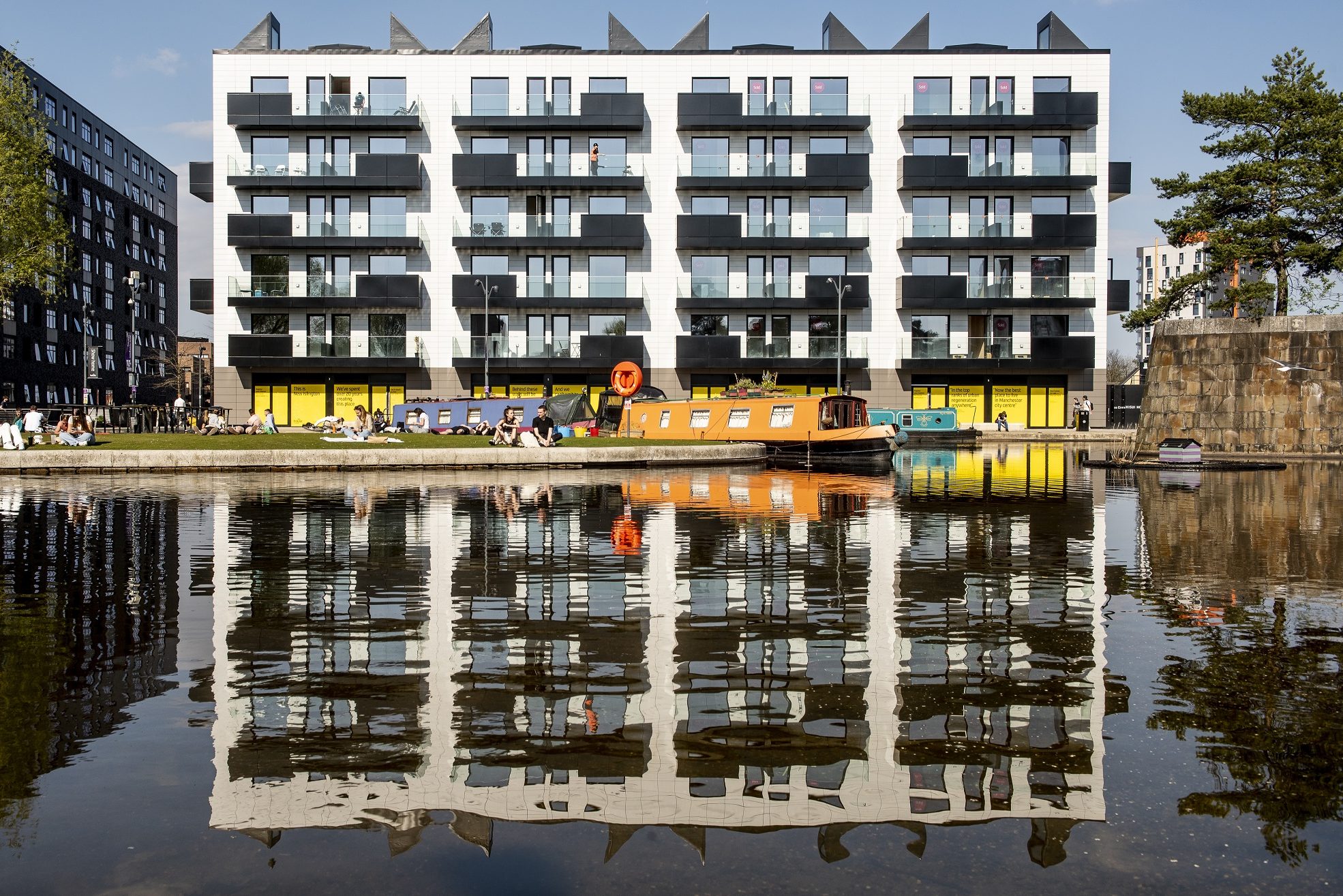 How are you responding to changing demographics, behaviours, market context, policy, transport habits and the climate crisis since winning planning? What is your sustainability strategy and how are you mitigating carbon use and construction pollution? 250 words max. Please attach images, drawings or reports that support your statement
Homes at New Islington have been designed using the latest technology in modern methods of construction (MMC) and have been created for a wide spectrum of residents from young to old, singles and families. The matsterplan's vision was to create a thriving, sustainable community - good for people, businesses and for the planet, and this development has been based on this framework.
Societal trends, such as the pandemic-induced work from home trend, show that 76% more people are now working from home than those just a decade ago. Homes at New Islington provide versatility in space that is needed right now. The customisable layouts have been designed to appeal to the increasing number of families moving to the area, with open plan layouts aimed at catering for those with children, showing the versatility of homes which can accommodate everyone working, socialising, exercising and living at home.
Homes at New Islington are built to exacting sustainability standards, with high quality insulation and meticulous construction bringing long-term energy and cost saving benefits to homeowners. MMC produce significantly less waste, fewer carbon emissions from site traffic, and are cleaner and more efficient than traditional construction. It is estimated that MMC delivers up to 90% reduction in site waste – making a significant impact overall.
Please share any figures on how the project is making a positive environmental, social and economic impact. Data or reports, article references or media clippings may also be attached to support your argument. 250 words max.
More than a third of homes at New Islington are affordable

It is estimated that MMC delivers up to 90% reduction in site waste – making a significant impact overall

67% less energy is required to produce a modular building compared to an equivalent traditional build project

Modular construction creates less noise, traffic congestion, mess and disruption than traditional construction – meaning happier already established residents

MMC provide skilled jobs in safer, and more comfortable environments. These jobs are more accessible and can be performed all year round – offering security in employment

A further four new businesses will move into New Islington this summer, bringing further amenities to residents and building a stronger community

New Islington has been designed to encourage walking and cycling with plenty of green and blue to promote biodiversity and wellbeing and providing the community with easier access to healthy routines
• New Islington Marina is now a tourist destination – providing outside space to be enjoyed by residents, locals and visitors to the area. Local businesses also reap the rewards of the attraction
Shortlisted for Place in Progress - The Pineapples Awards 2021